WELCOME! We would be thrilled to have you in one of our services, so consider yourself invited.  We have a diverse congregation from all over Williamsport and all across Lycoming County.  We look forward to meeting you and welcoming you to our services.  If you have questions that are not answered below, please contact us.
ARRIVAL If this is your first time to our church building, you might want to arrive ten minutes early just to be settled before the service begins.  We do not have a large facility, so it will not take long to find your way around.
SERVICES:  Sunday School begins at 9:30 AM and lasts for one hour.  The Morning Worship  Service begins at 10:45 AM and usually concludes a little after Noon.  The Evening Worship Service begins at 6:00 PM is usually finished about 7:15.  The Wednesday night Adult Prayer & Bible Study, Patch Clubs, and Youth Meeting begin at 7:00 PM and last about an hour.
DIRECTIONS: If you are coming from Interstate 180, take the Maynard Street Exit, then turn North toward Williamsport and Penn College.  The entrance to the church parking lot will be on your left past Penn College and just before you get to the Third Street traffic light.  Please note that the entrance to our parking lot is from Maynard Street. Once you park, follow the crowd of other people just arriving to use one of the doors with glass windows at the end of the sidewalk.  These doors are in a 'corner' of the building (click on diagram below).  For more detailed directions, see the services and directions page.  Click here to get driving directions.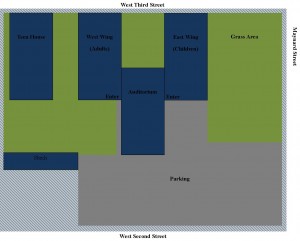 CHILDREN:  For every service, a nursery is provided in the east (children's) wing of the building for all children three and under.  Full, age-appropriate programs are provided for all other children in every service but the Sunday evening service.  Most of these programs take place in the east (children's) wing, but a few take place in the west wing.
TEENS: On Sunday mornings and on Wednesday nights, teens have the privilege of meeting in their own teen house right next door to the church.  This restored home provides two large classrooms for them, a full kitchen, and a nice game room in the basement.
ADULTS:  The college and career Sunday School class as well as the 30-50's class meet in the west (adult) wing.  This is also the church fellowship hall.  The senior adult class meets in the auditorium.  Class break downs are not hard and fast – you can select the class in which you are most comfortable.
DRESS:  Since Tabernacle is 'a place where God meets with you,' we encourage our people to dress up to meet with God.  Many of our leaders and regular attenders will be in traditional "Sunday" clothing, but you are welcome even if you do not have that.
OFFERING:  One of the great ways we worship God is by putting Him first with our finances.  Our people get excited about giving to meet the needs of our church as well as those of ministries all around the world!  You are certainly welcome to join us in worshipping God in this way, but you are not required to do so.